Apesar de este ano não ter conseguido fazer cabazes, como no ano passado, fiz doce de uva para toda a família, com algumas variantes, com os 5Kg de uvas que nos deram por aqui:
-<>-
Although this year has failed to make baskets, like last year, I made grape jam for the whole family, with some variations, with 5 kg of grapes that were given us here: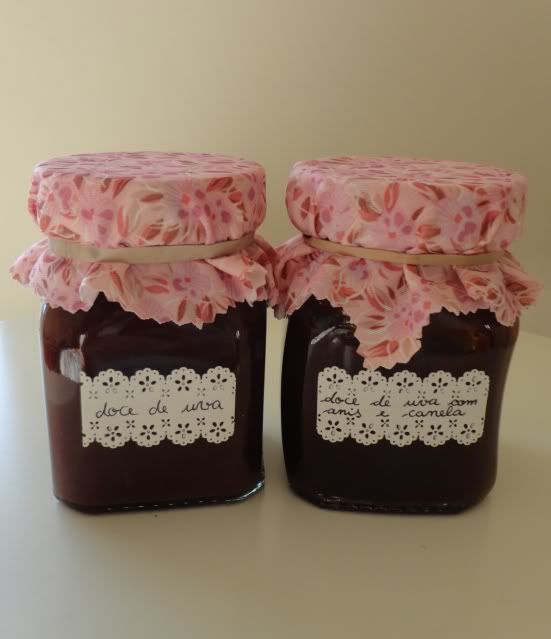 Nunca tinha feito doce de uva e foi para uma agradável surpresa, com um sabor que associo à minha infância.
Deu para todos, ainda sobrou cá em casa e ainda tenho uvas no congelador para fazer mais!
A receita é muito fácil e partilho aqui convosco:
Ingredientes:
* 1 kg de uvas, sem sementes e partidas ao meio
* 300 gr de açúcar
* 1 copo de água

Colocar todos os ingredientes numa panela e levar ao lume por meia hora.
Passado esse tempo, triturar tudo com a varinha mágica.
Deixar ferver por mais uma hora em lume brando.
Colocar ainda quente em recipientes de vidro esterilizados.
Nota: Podem acrescentar especiarias a gosto, fica igualmente bom. Eu experimentei com anis e canela.
I never
had
made
grape
jam before
and it was
a pleasant
surprise, with
a
flavor
that I associate
with my childhood
.
It was enough for everyone, I have some jars
left
around here
and I still have
grapes
in the freezer
to make
more!
The recipe is
very easy and
I'd like to share
it
here with you
:
Ingredients:
*
1 kg
of grapes,
seeded and
halved
*
300 grams
of sugar
1 cup
water
Place all
ingredients in a
saucepan and bring
to a boil
for half an
hour
.

After this
time,
grind
everything with a hand blender
.
Boil
for another hour
on low heat.
Fill sterilized glass
containers wile it's still hot
.
Note: You can
add
spices
to taste
, is just as
good.
I tried with
anise and
cinnamon.