A expressão inglesa "Deck the Walls" significa decorar a casa para o Natal.
Quando estava em Portugal achava que a "febre" do Natal chegava cedo, por vezes em finais de Outubro já estavam as lojas decoradas, mas isso não é nada comparado com Inglaterra! Em Setembro já havia algumas decorações de Natal nas lojas e neste momento as pessoas andam em frenezim a comprar prendas e preparar as suas ceias.
Não me estou contudo a queixar, porque também adoro o Natal!
Este ano como viemos para cá e o nível de vida é mais caro, decidimos não comprar decorações e eu encarreguei-me de as fazer.
-<>-
When I was in Portugal I thought that the Christmas "fever" came early, sometimes in the end of October the shops were already decorated, but that's nothing compared to England! In September there were Christmas decorations in some shops and at the moment people are in frenzy to buy gifts and prepare their Christmas festivities.
But I'm not complaining, because I also love Christmas!
This year as we came here and the standard of living is more expensive, we decided not to purchase decorations and I took the liberty to do them.



O elemento principal da decoração é esta coroa.
Foi feita com cartão enrolado com esponjas como
estas
, enfeitada com flores de tecido, feltro e um bonito galão vintage.
-<>-
The main feature is this wreath.
It was made with cardboard, wraped with
bath
sponge
, such as
these
,
adorned with
fabric flowers
,
felt
and
a pretty
vintage trimming.
Por baixo da coroa está este calendário do advento, feito com pequenas bolsinhas de tecido num cordão de crochet.
-<>-
Beneath the
wreath is
this
advent calendar
made
​​with small
pouches
of fabric
i
n a sting
crochet
.
Fiz também dois destes enfeites, a condizer com a coroa de Natal, para colocar nas escadas, uma em cima e outra em baixo.
-<>-
I also did
two
of these
ornaments
to
match
the
Christmas wreath,
to put
on the stairs
, one at the top
and one
on the bottom.
Esta janela está decorada com garrafas com
flores recicladas
e uma botinha de Natal enviada pelos meus pais, que tenho desde que me lembro.
-<>-
This window

is decorated with

recycled

bottles and recycled flowers

and

a

Christmas

bootie

sent

by my parents

, that

I have

since I can remember

.
Vi um tutorial no site da Martha Stewart e fiz estas duas árvores a partir de revistas. Pintei-as depois de spray dourado e colei alguns brilhantes.
-<>-
I saw

a

tutorial on

Martha

Stewart's

web

site

and made

these two

trees

from magazines

. Later

I painted

them

with

gold

spray

and

glued

glitter.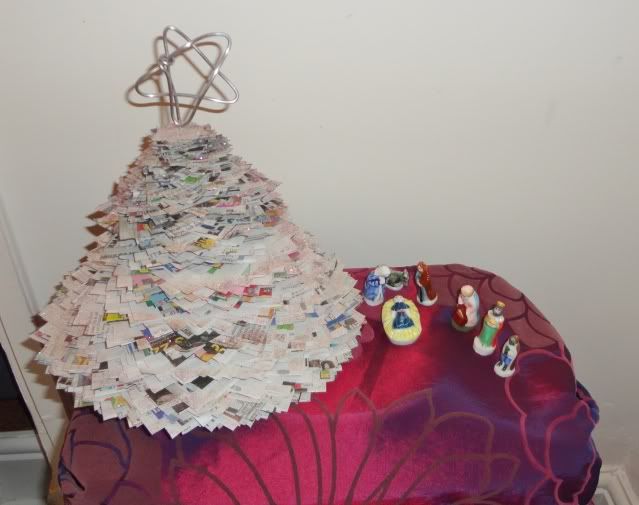 Finalmente a nossa árvore!
Também é reciclada e feita a partir de um tutorial da Martha Stewart, apenas fiz a parte do suporte em arame, por ser o material que tinha mais à mão e ser mais familiar.
O presépio é constituído por pequenas figuas de cerâmica, que saiam nos Bolos Reis.
Ainda tenho mais ideias de decoração, espero ter tempo para as fazer.
Espero que tenham gostado destes três novos projectos de reciclagem!
-<>-
Finally

our tree

!


It is also

recycled and

made ​​from

a tutorial by

Martha

Stewart

, I just did

the support part differently, with wire

, as it was the

material that

I had on

hand

and it's more familiar to me.


The navity is

are a set of small

ceramic

figues

, that King Cake (a traditional Portuguese Christmas cake) used to have.
I still have more

decorating

ideas

,

I just hope I have

time to

do them.
I hope you enjoyed
these
three new recycling projects
!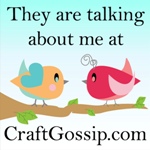 Featured here